Skin & Hair Care Tips for Brides
Wedding day is a dream day for each bride and groom. Everyone dreams of flawless glowing skin for his or her day to steer down the aisle. But like all goodies, it also requires some extra care and energy. The hectic schedule and exhausting preparations demand extra care beyond the routine skincare. they can't believe makeup for this flawless skin.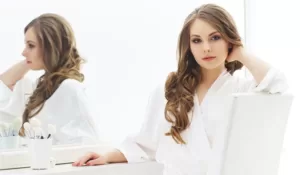 At La Fameux Derma, we have the simplest skin & hair treatments for brides in Noida that are customized as per individual concerns and therefore the desired outcomes. So, subsequent are a couple of tips suggested by our dermatologist for brides-to-be to realize smooth glowing skin:
Good quality sleep
A regular 8 hours of sleep may be a must to possess good skin and to avoid dark circles around the eyes. It provides adequate rest to the body and helps in the regeneration of the skin cells. It helps reducing stress and every one its side effects on the skin.
Healthy diet
It is an accepted incontrovertible fact that whatever we eat reflects on our skin. A healthy diet provides a natural glow to the skin. Keep yourselves hydrated with an ample amount of water which helps in flushing out toxins that cause a dull look to the face. Avoid junk and high glycemic index foods like chocolates, chips, soda, etc as they cause problems like dullness, acne, and pigmentation. Try eating tons of fruits and vegetables to make sure a sufficient intake of vitamins and minerals which are vital for glowing skin. Avoid smoking and alcohol consumption as they cause the buildup of free radicals making the skin dull. Supplements containing antioxidants like vitamin C, E, glutathione, omega-3, Q10, etc can help in getting obviate the toxins and supply glowing skin.
The right skin products
The right skin products are vital for healthy skin. The products should be chosen consistent with the skin type. the proper face wash, sunscreen, moisturizer, under-eye creams, and night creams are the necessities for flawless skin. an honest shampoo and conditioner also are important to possess an honest luster and stop hair fall. Please consult your dermatologist to understand the proper product for your skin and hair.
The best skin & hair treatments for brides in Noida
It is best to start out getting treatments for your skin and hair a minimum of 3-6 months before the marriage to realize great results. it's advisable to consult a dermatologist to urge the simplest treatments consistent with your concerns and skin type to realize flawless skin. Various treatments like Medi facials and mesotherapy are available to supply proper hydration and glow to the skin.
Chemical peels, laser treatments, and tan removal treatments are often done to urge obviate unwanted pigmentation and tanning. Laser hair reduction is often an excellent option for a discount in facial and hair and helps in avoiding tiring waxing sessions. it's always advised to not ignore the remainder of the body including hands, legs, and torso as they will even have uneven pigmentation and show signs of aging. Various treatments like body peeling, body polishing, tan removal treatments are available which help in achieving a good tone of the body and face. Besides these, fillers and botox are often wont to get obviate fine lines and achieve the specified contour of the face. Various Medi facials are available which are customized consistent with your skin type, which helps in achieving a momentary glow on a large day.
Hair also demands proper care to urge obviate hair fall and have an honest luster to avoid the tough effects of hair colors and hair treatments. Mesotherapy and protein Therapy is to stop hair fall and have healthy, nourished hair.
Hence, a healthy lifestyle and therefore the right skincare products are mandatory to possess smooth glowing skin. Some extra effort within the sort of skin and hair treatments can help achieve the right glow and luscious locks for the large Day!